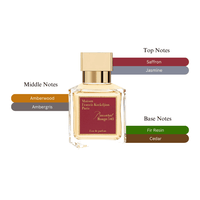 Maison Francis Kurkdjian Baccarat Rouge 540 EDP - Sample
Baccarat Rouge 540 Fragrance Notes
Citrus, jasmine, saffron, sage, ambergris, oakmoss, cedar
BR540
Smells amazing...sample is tiny and scent does not stay all day, but a quick refresher will suffice.
BR540
Light and airy. I prefer the Extrait, but the EDP version is also amazing.
I absolutely love this scent! I see what all the hype is about. Its such a beautiful scent. I can say it doesnt last all day, is my only issue. But a quick reapplication will fix that! I didnt want to do a blind purchase on such an expensive perfume. Im glad Venba gave me the opportunity to smell before I make a purchase!
Pretty good! Smells like red licorice to me (I never tried BR540 before)
2 oz is tiny!! Much smaller than I expected. But good to try it out.
Idk if this will become a fragrance of mine. Im not as in love with it as I had hoped to be